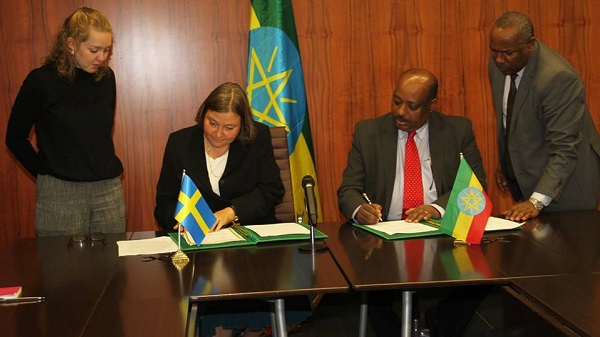 ADDIS ABABA (MoFEC)–Framework  Agreement a grant amounting SEK one billion (ETB 2.82 billion) was signed on July 27, 2017 between the Federal Democratic Republic of Ethiopia and the Kingdom of Sweden at a ceremony held at the Ministry of Finance and Economic Cooperation (MoFEC) in Addis Ababa, Ethiopia.
According to the agreement, the cooperation in the Framework focuses on
contributing to a better environment, limited climate impact and enhanced resilience to climate change,
improved opportunities for poor people to make use of their rights, and
promoting democratization and gender equality in the society.
The Agreement is used as a Framework which leads the development cooperation of the two countries for the five years, 2016-2020. This commitment is planned to be used for various projects to be implemented in Ethiopia so as to achieve the agreed results.
H.E. Mr. Admasu Nebebe, State Minister of MoFEC, Ms. Annika Nordin Jayawardena, Swedish Deputy Head of Mission, Charge D'Affaires of the Embassy of Sweden in Addis Ababa, signed the agreement on behalf of the Ethiopian Government and the Swedish Government, respectively.
Source: Ministry of Finance and Economic Cooperation
——
See also:
---