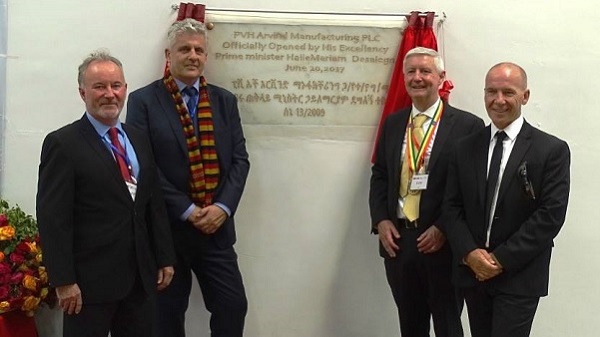 (PVH)–We are at the start of an exciting journey to help build a best-in-class apparel manufacturing industry in Ethiopia. To start, we have convened a private-public collaboration with suppliers, the Ethiopian government and donor groups to establish an industrial park in Hawassa, a small city in southern Ethiopia. Our collective vision is that Hawassa Industrial Park ("HIP") will be a win-win development opportunity, both for sub-Saharan Africa and for the apparel industry. To make this happen, we are working with partners that share our values and drawing on lessons learned in other sourcing regions. At every step, we are sensitive to the challenges and conscious of the responsibilities inherent in industrializing a predominantly agricultural region.
So why Ethiopia? It is Africa's second most populous country, with an average GDP growth rate of 11% for the past 11 years and a stable government with an ambitious 2025 vision to become Africa's leader in light manufacturing. To support this, Ethiopia is investing in its infrastructure, including by expanding clean energy generation, and worker development. The country's power is among the cheapest in the world, is 86% renewable, and is on track to be 100% renewable over time. For the apparel industry, there is an opportunity to grow cotton and implement other stages of production within Ethiopia, so that the value generated from all stages of the production process can be maintained in-country.
We are taking a thoughtful and measured approach to sourcing in East Africa, partnering with suppliers to thoroughly investigate trade prospects across the region and engaging with the national and local governments. Our Chief Supply Chain Officer, Bill McRaith, provided testimony to the U.S. government supporting the renewal and 10-year extension of the Africa Growth and Opportunity Act (AGOA) – legislation introduced in 2000 to help sub-Saharan Africa build trade partnerships with the U.S. This effort paved the way for investors to help make this and other industrialization projects a reality. Our efforts in Ethiopia reflect our key focus areas of people, environment and communities.
Empowering people
HIP is projected to create more jobs in the region than generated in the past 50 years. The park's tenants hopes to hire 40,000-60,000 workers over the next three years, and a significant number of related jobs are expected to be created in Hawassa and surrounding communities.
From the outset, we have approached this new venture by drawing on the lessons learned from decades of promoting human rights in our supply chain and our experience in helping to lead efforts such as the Accord. We have opted to collaborate with like-minded business partners, all of whom understand the importance of promoting workers' rights in creating a high quality product. Through the HIP Tenants Association, we are agreeing on fundamental ways of working that reflect our values, including the adoption of a code of conduct for park tenants.
Beyond compliance, we are working with partners to make the park a great place to work. For example, we are promoting the establishment of workers' committees and exploring innovative transport and housing solutions, including for workers migrating to the area. We want to help enable these workers to become part of the Hawassa community and feel invested in the park's success.
Preserving the environment
Our long-term vision is to develop a truly integrated vertical supply chain comprising all stages of apparel production, from growing cotton to dyeing fabrics to sewing the final garments. In order to minimize impacts on the environment, it is vital that we use sustainable energy and ensure sufficient water supplies for both our operations and local communities.
Green electricity is plentiful in Ethiopia; by 2017, the country will be able to draw on the largest hydroelectric power supply in Africa. This is one of the key motivating factors in deciding to produce there, and we plan to power HIP with a mix of hydroelectric and geothermal energy.
Read the complete story at PVH
——
See also:
---