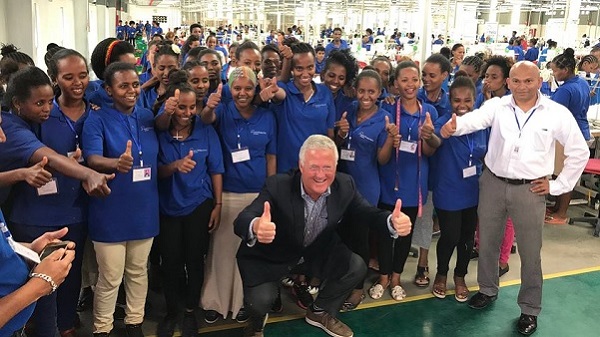 PVH Corp's Executive Vice President of Global Supply Mark Green emphasized Hawassa Industrial Park's role as a springboard for the textiles and apparel industry in Ethiopia.
By Mamo Mihretu and Gabriela Llobet (World Bank Group)
On July 13, 2016, Ethiopian Prime Minister Hailemariam Desalegn officially inaugurated the Hawassa Industrial Park (HIP). In front of assorted dignitaries, including members of the diplomatic community, investors and local residents, gathered on a warm Wednesday morning, the Prime Minister highlighted the historic significance of the project in ushering a new chapter in Ethiopia's industrialization efforts. In the audience were senior executives of the PVH Corp.—the lead apparel company in HIP—and two of the Prime Minister's key advisors—Dr. Arkebe Oqubay, the Prime Minister's Special Advisor on Industrialization, and Fitsum Arega, the Commissioner of the Ethiopian Investment Commission (EIC). "The Hawassa Industrial Park," proclaimed the Prime Minister, "is significant both because of the promise it holds in and of itself and the precedence it sets—as a pilot eco-friendly, green industrial park—for a series of planned future industrial parks across the country."
Over the past 30 years, Ethiopia's manufacturing sector generated only 250,000 jobs. According to the government, HIP alone is expected to generate close to 60,000 jobs and US$1 billion in export revenues. This will be a significant achievement for a country that has suffered chronic foreign exchange shortages. Beyond these static gains, the Prime Minister continued, "Hawassa Industrial Park is a strategically important inflection point that will usher in a New Frontier—an experimental program that will ensure a shift to a productive manufacturing sector through
similar initiatives while protecting the environment."
● SEMONEGNA ON SOCIAL MEDIA: Facebook| Twitter| Instagram| Pinterest
Mark Green, PVH's Executive Vice President of Global Supply, emphasized HIP's role as a springboard for the textiles and apparel industry in Ethiopia. "You have in Hawassa some of the best manufacturers in the world. The world is watching with huge interest and anticipation …. We believe that it is a model that could be taken to work not in just parts of Ethiopia but throughout Africa. In time, we are sure Ethiopia will become the major apparel hub for Africa and an exporter of talent as well."
HIP, a modern, ecologically sensitive industrial park is also unique in that it was constructed in less than a year. This is an outcome of a very close partnership and shared vision by the tenant group led by PVH and an active and engaged government. The construction of HIP started in July, 2015 and the park was inaugurated on July 13, 2016. Within a year, on March 4, 2017, one of HIP's tenants exported HIP's first dress shirt.
Read the complete Case Study at World Bank Group
——
See also:
---