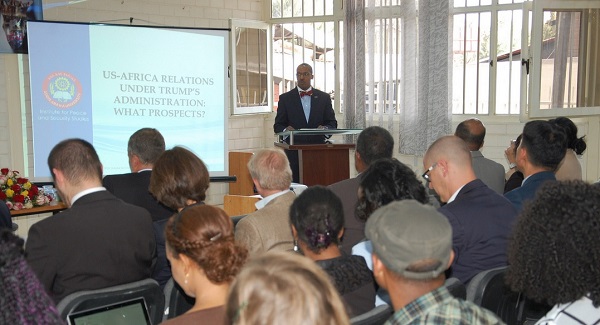 IPSS hosted its first Indaba session of the year, titled 'US-Africa Relations Under the Trump Administration' and presented by Ambassador Reuben E. Brigety
Addis Ababa, Ethiopia (IPSS)–On 30 January 2017, IPSS hosted its first Indaba session of the year, titled 'US-Africa Relations Under the Trump Administration' and presented by Ambassador Reuben E. Brigety, former US Permanent Representative to the African Union and the UN Economic Commission for Africa and current Dean of the Elliott School of International Affairs at the George Washington University in Washington DC, US. Speaking in his personal capacity, Amb. Brigety addressed an audience of approximately 70 representatives from various embassies, civil society, media, and government and research institutions.
He described the 2017 elections as one of the most contentious and divisive elections the US has experienced despite the successful and peaceful transfer of power. Reuben E. Brigety argued that although there has not been any direct mention of Africa yet by the Trump administration, for one to successfully locate where Africa policy falls under the Trump administration, one needs to unpack what has become the defining principle of US policy as articulated in President Trump's inaugural address, the principle of "America first". This rhetoric poses both challenges and opportunities for Africa, with Trump's unpredictability serving as one of the most serious challenges for Africa, primarily concerning the future of bipartisan initiatives such as the African Growth and Opportunity Act (AGOA), the President's Emergency Plan for AIDS Relief (PEPFAR), and Power Africa. Amb. Brigety stressed that "one cannot assume continuity", given President Trump's propensity to deter from traditional methods of governance.
The second challenge identified was the ambiguity behind "America first" especially with regards to Africa. It implies a greater focus on US national interests, but could also be interpreted as mirroring US isolationism exhibited in the 1930s. Trump's unconventional methods of conducting foreign policy through Twitter, as seen with Mexico and China, further exacerbates these challenges as it creates uncertainty as to the seriousness of his claims as well as uncertainty as to whom to engage with on such matters.
Opportunities identified by Amb. Brigety include Trump's strong nominees such as Rex Tillerson for Secretary of State and James Mattis as Secretary of Defence – individuals who might exhibit mutual concern for Africa and the US. The second opportunity he noted was the number of areas the US and Africa can collaborate on such as counter-terrorism initiatives and economic co-operation. Finally, there are opportunities to partner at the multilateral level, particularly on issues such as peace support operations in Africa.
Amb. Reuben E. Brigety ended his presentation by emphasizing that both the US and the African Union are going through a process of new leadership, a process that requires both sides to shape a new reality. This is therefore a good opportunity as it presents a 'new era' for relations between the US and Africa.
Read more about "A new era for US-Africa relations" on AAU IPSS
---