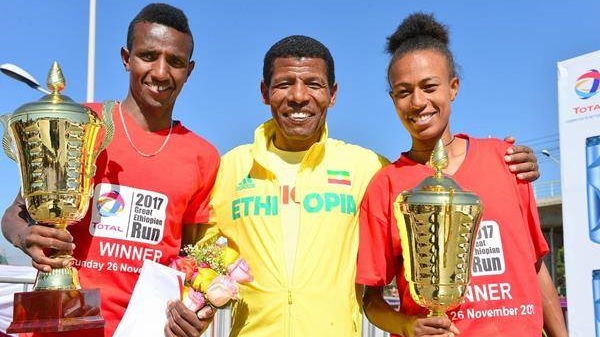 Selemon Barega of Debub Kilel team and Zeyneba Yimer of Commercial Bank of Ethiopia team, win the 10km elite race of the 2017 TOTAL Great Ethiopian Run in Addis Ababa.
By Elshadai Negash and Abiy Wondifraw (IAAF)
ADDIS ABABA–World U18 and U20 champion Selemon Barega and Zeyneba Yimer won close contests at the 2017 TOTAL Great Ethiopian Run 10km road race in Addis Ababa on Sunday (Nov. 26).
It has been a stellar 2017 for Selemon Barega who stormed to an impressive 3000m title at the World U18 Championships in Nairobi in July and followed it up with an impressive fifth place finish over 5000m at the IAAF World Athletics Championships in London a month later.
And following a short rest, the 17-year-old was an impressive winner of the Cross International de Main Libre in Allones, France, last weekend and followed it up with an impressive victory on his debut Sunday against some of the country's upcoming athletes including two-time national cross country champion Getaneh Molla and defending champion Moges Teumay.
A slow start to this contest left around 30 runners in contention at four kilometers with Jemal Yimer, world championship 10,000m fifth place finisher, Moges, Selemon, and Getaneh all in contention.
Selemon who looked relaxed behind the pacesetters in the large group, suddenly took the lead at the halfway point with Moges following him closely. The chase pack failed to cover the sudden move as the duo opened up a two-way battle for the finish.
Moges tried the first breakaway attempt at the seven-kilometer mark, but Selemon fought him off en route to his victory in 28:36. Moges followed him across the line two seconds later with Dawit Fekadu winning the battle of the leading pack chasers for third.
"Because it is the first time for me to run in Great [Ethiopian] Run, it was not easy," Selemon Barega said. "I had a slight injury before the race and again there were some big names to battle with. I really did not expect [to win] it."
Read the complete story at IAAF
——
See also:
---