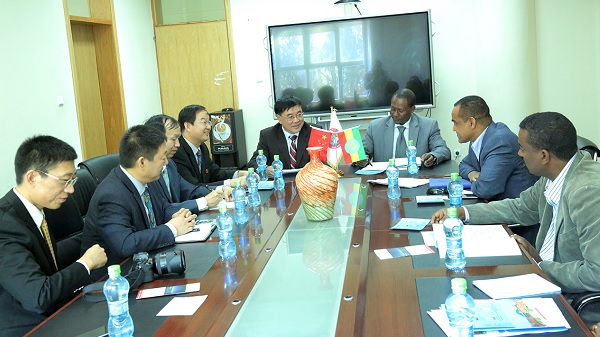 A Chinese delegation of five from Shandong Jianzhu University led by Prof. Wang Chongjie visited Addis Ababa University (AAU) on Nov. 29, 2016.
Academic Vice President of AAU, Jeilu Oumer, PhD, welcomed the delegates in his office and discussed the potential areas of collaboration and partnership for mutual benefit on Civil engineering and Architecture.
Among the AAU officials who took part on the occasion were Ephrem Geberemariam, PhD, Deputy Scientific Director of the Ethiopian Institute of Architecture, Building and City Construction (EiaBC), Esayas G/Yohannes, PhD, Chief Executive Director at Addis Ababa University Institute of Technology (AAiT), and Zenebe Beyene, PhD, Director of External Relations, Partnerships and Communication.
Prof. Wang Chongjie, the Shandong Jianzhu University Secretary, made a speech about his university. He noted that the university primarily works in the fields of Engineering and Architecture. He also pointed out that the collaboration helps academic staff and undergraduate and postgraduate students of the universities exchange experience, skill and knowledge.
Dr. Zenebe Beyene, AAU's External Relations, Partnerships and Communication Director, stated that the agreement needs to go beyond words scribbled on paper and engage the two parties into action.
Source: Addis Ababa University
——
Other stories:
---