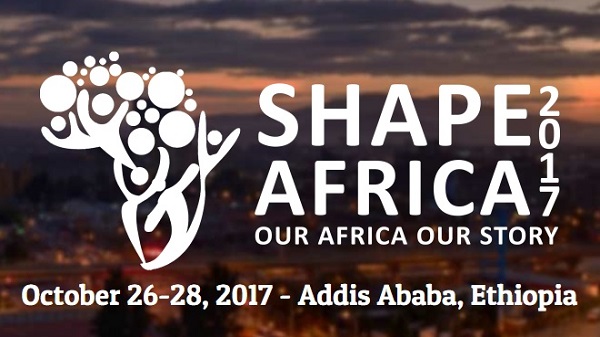 EVENT: Shape Africa 2017
DATE: October 26-28, 2017
VENUE: Monarch Hotel, Addis Ababa, Ethiopia
Our Africa. Our Stories.
Who tells Africa's stories? Who creates the narratives that shape the perceptions, attitudes, and future of a continent of 55 nations and 1.26 billion people? The Global Shapers* Addis Ababa Hub asks our continent's best and brightest to look inward at ourselves and onwards to a story of growth, driven by youth and based on integration, in which we are the authors.
Shape the narrative.
We invite our elders, leaders and youth from around the continent to join us October 26-28th. Through interactive panels, booths and creative sessions, we will discuss how youth, growth, and integration can be used to drive African narratives.
Shape Africa ― Here's what you can look forward to:
Partners of Shape Africa 2017
The African Union | Monarch Hotel – Addis Ababa | Ethiopian Airlines
* The Global Shapers Community is a network of young people driving dialogue, action and change. The Global Shapers look for opportunities to have impact on a global scale by joining forces with other hubs. They represent a network of peers connected through technology, events and joint projects. Each year, hundreds of hub leaders known as Curators come together to showcase the work of their hub and strengthen relationships across communities. On the regional level, events are designed and led by Shapers to encourage collaboration, share expertise and explore community solutions.
Source: Our Africa. Our Story.
——
See also:
---