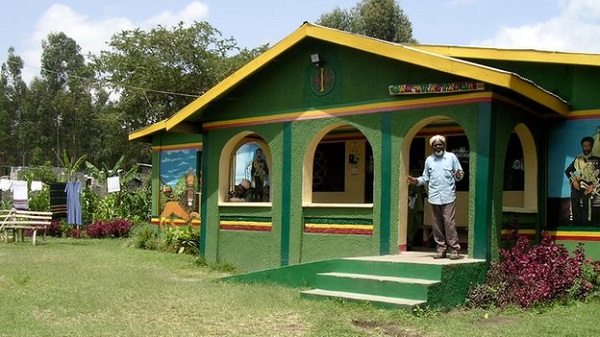 Beside, their harmony and culture of tolerance, most of the local people are kind and respectful to fellow compatriots and expats who set foot at Shashamane for different reasons.
By Yohanes Jemaneh (The Ethiopian Herald) |
Hundred years ago, there was a kind woman living in a village near Wondo Genet. She went by the name Shashe. She was seen as a mother of all  by dwellers of the village.  Almost all  inhabitants of the village used to go to her home to enjoy or to get a shelter. She usually brewed local alcoholic liqueurs like tela and tej.  When people wanted to  take quick ones, they used to say "Let's go to mana Shashe" which means Shashe's House in local Oromiffa language. This way the town acquired its name after Shashe and continued to be known as Shashamane.
Shashamane town residents recount this story when asked about the naming of the city. They say "the name of Shashamane town was derived from Oromiffa word 'Mana Shashe' or the house of Shashe, the home, where most of the town residents sought shelter and peace of mind during  good and bad times."
Mulunesh Anjelo is a resident of Shashamane town. She has been living there for the last 47 years. She  is very much familiar with the story  behind how the town was named after Shamshemene. She also knows people that belong to Shashe's linage. Known for her humble and generous characters and deeds, Shashe was  most adorable among her community members. The main reason behind Shashe's kindness was her friendly and close approach with people of the environs regardless of their ethnic background.  Inspired by the good gesture of Shsahe, today, even hundred years after she passed away, true to Shashe's lifestyle, residents of the town prove very friendly said Mulunesh whom the writer met on a consultative meeting organized by the municipality.
Beside, their harmony and culture of tolerance, most of the local people are kind and respectful to fellow compatriots and expats who set foot at Shashamane for different reasons. Mulunesh added that, if the town manages to integrate the  hospitality of the people with  its rich cultural and historical heritages, tourism will be a lucrative businesses. The  farming plots of the town are gifted lands , which are capable to produce harvest twice a year and to fill the baskets of the nation with fresh fruits and vegetables even during the winter season.Therefore, she said, being home to various essential treasures; it needs a little effort to exploit the town's untapped potential  in terms of utilizing tourism or generating economic benefits.
A member of Rastafarian Community Police Bariso Babo has  been involved in various peace keeping activities around Jamaica village in Shashamane Town. He also holds inhabitants of the town in respect. He is of the opinion that: " Residents of the town are the most decent and friendly people I have ever met." He said nurturing and promoting such culture would be helpful in enhancing town's tourism potential."Ethiopia is a God-blessed country that is why its people are the most hospitable in the world."
Bariso's colleague Ayano Babo seconds this idea. Ethiopians are the most blessed and God chosen people. As to him, this was clearly demonstrated when they fought and claimed victory against colonial powers. For this reason the nation carries an emblem of freedom.  " We have been living excited with the local people consolidating deep relationship.''
Town Culture and Tourism Bureau Head Sofiya Mohammad said for her part that Shashamane is nicknamed 'The little Ethiopia' as it is the hub for various nations, nationalities and peoples. Moreover, the town is home to a large number of foreigners including Rastafarians and  Arabs. According to the head, the town has five main gateways, which are the pass-throughs to the national parks and other tourism destinations of neighboring cities. It is situated near to various touristic spots  such as Dinsho, Sankile and Abijata-Shala Natinal Parks, Sof Umer Cave, among others.
"All tourists heading to those tourist attractions will take a break in Shashamane."
On the other hand, other recreational spots in the town like the Jamaicans village and the Haileselassie I Palace are breathtaking places frequently visited by a number of foreigners and local tourists. According to her, the town is working to exploit its tourism assets. To realize this, currently 102 investors have engaged in hotel and tourism services.
In a nutshell, exploiting the natural and man-made tourism resource will help the town to generate hard currency thereby speed up the ongoing infrastructural development and other basic services.
Source: The Ethiopian Herald
——
Other stories:
---