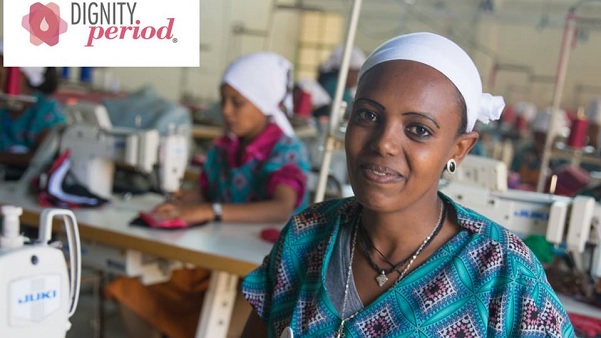 Dignity Period is a not-for-profit organization based in St. Louis, MO, whose mission is to keep adolescent Ethiopian girls in school by ensuring that they have access to quality menstrual hygiene products
By Nick Fierro (Riverfront Times) |
It started, as many things do, with a personal connection. For Dr. Lewis Wall, the "person" in "personal" came from a dynamic Ethiopian woman named Freweini Mebrahtu.
Wall, a Washington University OB/GYN and professor of anthropology, met Mebrahtu while he was in Ethiopia on a Fulbright grant in 2014. Now he calls her one of his best friends, and the two are working together to supply young women in Ethiopia with something many of us take for granted: menstrual pads.
In Ethiopia, the cost, stigma and lack of education around sanitary pads are a barrier to nearly 18 million women and adolescent girls. As a result, they often go without the proper hygienic products and resort to unsanitary and ineffective alternatives.
Freweini Mebrahtu was already tackling that problem when Wall landed in her country. As the founder of the Mariam Seba Sanitary Products Factory, she was manufacturing reusable pads, which she then gave away to women's prisons and schools.
After his return to the United States, Wall and his wife, Helen, founded Dignity Period with a clear mission in mind: distribute the pads and provide menstrual hygiene education to schoolgirls in the rural Tigray region of Ethiopia.
"We saw what she was doing, and we said, 'We have to find a way to get more pads out there,'" Wall explains.
Freweini Mebrahtu says her mission stemmed from her personal experience.
"As an adolescent girl I never forgot the experience of having my first period," she explains in an email. "I was shocked and confused. Growing up neither my mother nor my four sisters had told me anything about periods. So, like all my friends, I was shocked and depressed when I had my first period."
She and her friends used pieces of old clothing as pads, and scarves to cover themselves in case their clothes got stained. "You want someone to answer your million-dollar question, but you never dare to ask anybody because it is such a taboo subject."
Read more about "How a St. Louis Nonprofit Is Helping…" on Riverfront Times
——
See also:
---