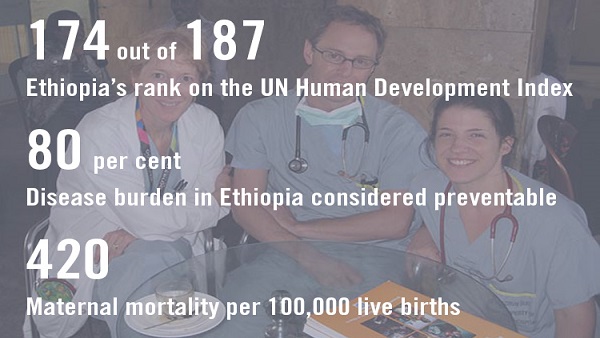 TAAAC was created in 2008 as a unique, multidisciplinary educational initiative partnering University of Toronto (UofT) with Addis Ababa University (AAU) in Ethiopia.
TORONTO, ON (U of T News)–In 2003, Ethiopia – a landlocked country of 72.5 million people – had only a handful of psychiatrists, all located in the capital city. Psychiatry was in its infancy, and most people sought treatment for mental disorders at religious Holy Water sites.
Fourteen years later, a University of Toronto (U of T)-Addis Ababa University partnership has propelled the number of psychiatrists from 11 to 70. There are now seven psychiatry departments around the country, and mental health is being integrated into the Ethiopian government's primary health-care strategy.
The collaboration, called Toronto Addis Ababa Academic Collaboration (TAAAC), has expanded beyond psychiatry: U of T faculty helped to develop emergency medicine from scratch, training ER doctors in a country that didn't have any. A group of U of T physicians, including Dr. Jane Philpott, now minister of Indigenous services, helped start family medicine in Ethiopia in 2013. And earlier this year, a Toronto-based thoracic surgeon and his Ethiopian counterparts conducted sub-Saharan Africa's first video-assisted pneumonectomy.
The program has inspired other academic fields to come on board – U of T faculty have helped train Ethiopian pharmacists, radiologists, dentists, engineers, hematologists, rehab specialists and librarians.
On average, 80 faculty from across U of T travel to Ethiopia every year as volunteers to provide academic training, teaching, support, research collaboration, clinical supervision and mentorship in 21 different programs. The program as a whole is making a difference in the east African nation, but Dr. Dawit Wondimagegn, chief executive director of the College of Health Sciences at Addis Ababa University, points to family medicine in particular.
"Having family medicine is changing the face of primary care in Ethiopia," Dr. Dawit said.
U of T's efforts in Ethiopia – supporting the development of graduate programs at Addis Ababa University – will be on full display as President Meric Gertler visits the country this week. This is believed to be the first official trip by a U of T president to the African continent.
President Gertler also traveled to Rwanda during this trip as part of a Mastercard Foundation (MCF) Scholars event, but the bulk of his time in Ethiopia is being spent seeing first-hand how this under-the-radar initiative with Addis Ababa University is helping to transform a nation.
The TAAAC program has not only helped Ethiopia slow down the brain drain – keeping newly graduated medical and academic experts in the country – but it has also become the model for collaboration in global health.
RELATED: University of Gondar Officially Launches Partnership with Queen's University, MasterCard Foundation
"TAAAC has established itself as a sustainable model of educational partnership between two universities: one situated in a low-income country and the other in a high-income country," said Dr. Brian Hodges, professor of psychiatry at U of T who is executive vice-president, education of the University Health Network and chair of TAAAC's governance committee.
"In partnership with our colleagues in Addis Ababa, U of T and its partner hospitals have supported the establishment of a number of programs for health professionals where there was none, strengthened fledgling ones and helped to create a new generation of specialists who are taking up leadership roles in health care and education across the country."
Read the complete story at U of T News
——
See also:
---