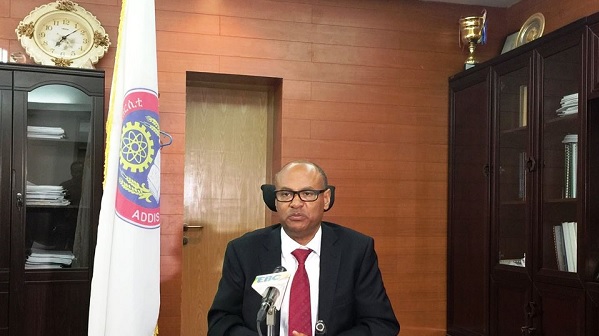 The Ministry of Education has elected Professor Tassew Woldehanna Kahsay as the 11th President of Addis Ababa University (AAU) on February 11, 2018.
Who is Tassew Woldehanna Kahsay, PhD?
Tassew Woldehanna Kahsay, PhD, is a professor of Economics at Addis Ababa University. He obtained his MSc in Agricultural and Environmental Economics as well as his PhD in Household Economics from Wageningen University, The Netherlands, where he has lectured as a visiting Professor in household and agricultural economics since 2000. He is a development economist mainly interested in fiscal incidence, child welfare and poverty, employment, micro and small-scale enterprise development, entrepreneurship and food security. He has published several book chapters and articles in peer review journal in the area of poverty and education and health. Ha has been serving as the Principal Investigator of Young Lives, an international study of childhood poverty following 12,000 children in four countries (Ethiopia, India, Vietnam and Peru), supported by Oxford Department of International Development (ODID).
At Addis Ababa University, Professor Tassew Woldehanna has served as the Vice President for Research and Technology Transfer and a Professor of Economics. In the past, Professor Tassew worked as a researcher at the Ethiopian Development Research Institute, the Center for the Study of African Economies at Oxford University, and the Department of Agricultural Economics at Michigan State University, USA. He has also worked as an agronomist at the Ethiopian Ministry of Agriculture.
Aside from his academic and research activities, Professor Tassew is a member of Board of Directors at Lion International Bank (LIB), is a privately owned share company, which was established in October 2006 and  started providing full banking and financial services in January 2007.
The Ministry of Education elected Professor Tassew as the 11th President of Addis Ababa University (AAU) from three finalists, Professor Bekele Gutema Jebesa (associate professor of philosophy at AAU's College of Social Sciences), Dr. Jeilu Oumer Hussein (AAU's Academic Vice President and professor of education in the College of Education and Behavioral Studies), and Professor Tassew Woldehana Kahsay.
Professor Admasu Tsegaye was the 10th President of the University since March 2011 until his appointment as Ethiopia's Ambassador to the Republic of Indonesia in July 2017 (began his ambassadorship in January 2018, presenting his credentials on January 17, 2018 to Indonesia's President, Joko Widodo).
---