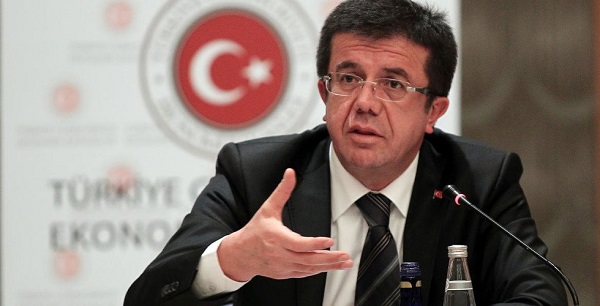 One-day official visit to Ethiopia by Nihat Zeybekci, Turkey's Minster of Economy, aims to boost trade, investment and bilateral ties between the two countries.
By Seleshi Tessema (Anadolu Agency) |
Addis Ababa, Ethiopia–Turkish Economy Minister Nihat Zeybekci and the 100 member business delegation will begin a one-day visit to Ethiopia on Wednesday, according to officials.
Zeybekci's official visit is packed with high profile engagements.
He will meet the Ethiopian President Mulatu Teshome and Prime minister Hailemariam Desalegn.
He will also hold bilateral meetings with the Ethiopian Foreign and Industry ministers, Workneh Gebeyehu and Ahmed Abetew, respectively.
The spokesperson of the Ethiopian Ministry of Foreign Affairs, Tewelde Mulugeta, told Anadolu Agency that both countries enjoyed multifaceted relations.
''Both countries are determined to deepen bilateral relations, and the visit will boost trade, investment, and bilateral ties,'' he added. ''Turkey is widely respected for creating jobs and wealth in Ethiopia."
The trade volume between the two countries stood at $420 million in 2015. Turkey's exports to Ethiopia amounts to $385 million, while Ethiopia's exports were $35.7 million.
Source: Anadolu Agency
——
Other stories:
---