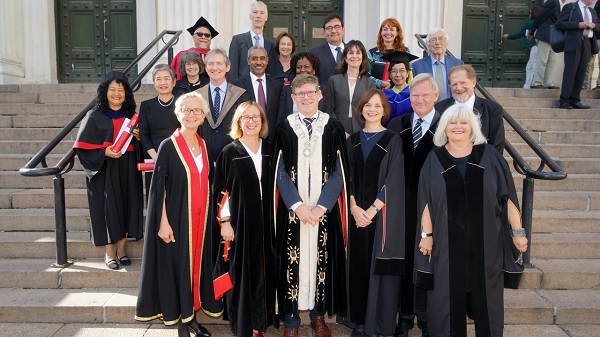 JIMMA, Ethiopia (JU)–Prof. Abraham Haileamlak Mitike, Professor of Pediatric Cardiology at Jimma University (JU), has been awarded an Honorary Doctoral Degree from the University of Oslo, Faculty of Medicine, on a ceremony held on September 1, 2017 in Oslo, Noway.
Professor Abraham (born 1966) received his medical (MD) degree from Addis Ababa University in Ethiopia, and he has his Pediatric Cardiology training from Germany and Israel. He was Vice President (2003-2009) and the inaugural Dean at the College of Health Sciences (2011-2016) of Jimma University. He successfully led the hospital as well as the development and planning of the new hospital (600 beds, catchment area 15 millions) and secured increased quality of the clinical services as well as the education of health care providers.
RELATED: American Geophysical Union Honors Ethiopian Melessew Nigussie with "Africa Awards for Research Excellence in Space Science"
Over twenty five years' experience in health care service in Ethiopia, Professor Abraham Haileamlak Mitike established one of the first training programs in dentistry. Professor Abraham has work relentlessly for increased quality of research and research education, and is leading the NORAD supported capacity development program SACCADE, a collaborative effort with the University of Oslo. He has an extraordinary capability and capacity for international networking and partnership development and was recognized for his work nationally with "The Extraordinary Award for Passion, Dedication and Exceptional Life Time Contribution to the Health Sector Advancement of Ethiopia" in 2015.
Source: Jimma University
——
Other stories:
---