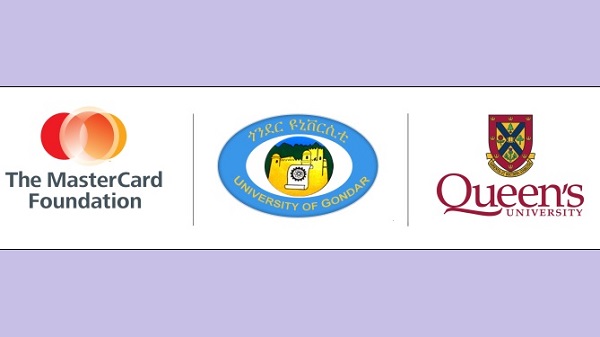 GONDAR (UoG)–The University of Gondar (UoG) officially launched its partnership with Canadian Queen's University and the MasterCard Foundation on 20 September finalizing a collaboration that will bind the three institutions for the following 10 years.
Dr. Asrat Atsedeweyn, academic vice president of UoG, Dr. Daniel Woolf, Queen's University Principal/Vice-Chancellor and Kim Kerr, deputy director, Education and Learning, MasterCard Foundation were those who took part in the official news conference on behalf of each organization. What took place at Agnes Etherington Art Centre in Kingston Canada was groundbreaking.
The agreement is a remarkable testament to the fortitude of all the participants involved. 450 African students, who will become MasterCard Scholars, will be given an opportunity to enroll at UoG and receive an education of a lifetime.
UoG will provide 290 undergraduate and 160 master's degrees in fields of health science, law, education, nursing and rehabilitation sciences. Native Ethiopians will not only be the ones who benefit from the educational prospect. Students from neighboring countries like Somalia, Eritrea, South Sudan and Djibouti and students from war torn nations as well will have a chance to be educated at UoG.
Moreover, Queens University, as a partner, will allow UoG faculty members the opportunity to study in Canada. As part of a plan to educate faculty members, UoG staff will study in Kingston and enhance their skills in innovative methods and ways of teaching.
With aims to collaborate to develop Ethiopia's first occupational therapy program, Queens University and the University of Gondar are set to make history together. "This is a program with such great social purpose," Dr. Daniel said at a news conference at the Agnes Etherington Art Centre on the Queen's campus. It's the beginning of a partnership and exchange of cultures and knowledge that will benefit all partners.
Dr. Asrat Atsedeweyn expressed his hopes that the agreement will benefit those who have much potential. "This is an opportunity for Ethiopians to pursue higher education," The academic vice president said. "This will help 450 next-generation African leaders."
Mr. Molalign Belay Adugna and Mr. Mulugeta Bayisa Chala who are staff members at UoG and who are now studying abroad at Queens University in a PhD program were also present to experience the launch. "Thank you, MasterCard Foundation, for investing in the future," Molalign said "If we don't educate, we can't change a life; we'll take this responsibility to the next generation."
Dr. Daniel Woolf, Queen's University principal, alluded to the program as having 'great social purpose'. And indeed it will have an impact in the wider Horn of Africa region. The University of Gondar is making preparations already to sustain the potential applicants. By focusing on entrances and exists all throughout its campuses, UoG will make accessible those places that were once inaccessible. This will allow all disabled students to enter freely and have an unrestricted environment that is student- friendly.
The academic and research agreement between the three organizations will amount to USD 24.2-million.
Source: UoG 
——
Other stories:
---