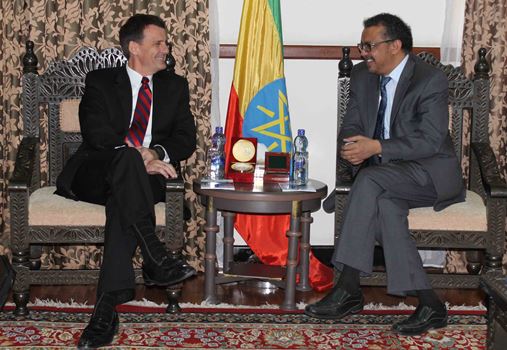 Addis Ababa (ENA)―Ethiopia and the United States Agency for International Development (USAID) have agreed on ways of deepening cooperation by promoting effective and efficient bilateral engagement.
The two sides have been cooperating in various development fields including in health, education, food security, agricultural production and productivity as well as good governance and democracy.
The Minister of Foreign Affairs Dr. Tedros Adhanom today received Assistant Administrator for the Bureau for Democracy, Conflict, and Humanitarian Assistance (DCHA) David Harden at his office where they pledged to further broaden their cooperation and strengthen bilateral development efforts.
Dr. Tedros said Ethiopia will continue engaging with USAID as the agency has rendered greater contributions in the progress Ethiopia has registered in its development programs, according to the ministry Spokesperson who attended the talks.
READ: ICRC: Joint Production of a Police Training Video for the Ethiopian Police
The two sides agreed to work closely on various development sectors in a more productive manner.
The U.S. official also received briefings about Ethiopia's latest state of emergency which Dr. Tedros said is aimed at protecting and maintaining peace in the country.
Commending the enormous progresses in Ethiopia in areas of health and education, David Harden said the talks with Ethiopia's minister also stressed on the need for openness, respect for democracy and constitutional freedom.
Dr. Tedros said, "we believe that providing this space for civil society and democracy to flourish is a foundational point for future Ethiopia."
The bilateral talks also covered ways of creating economic opportunities for the youth, according to Harden.
Source: Ethiopian News Agency (ENA)
——
Other stories
---