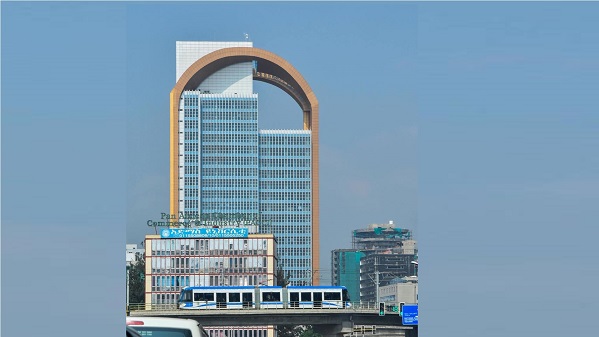 ADDIS ABABA (Semonegna)–Wegagen Bank has inaugurated its headquarters newly built headquarters, a 23-storey building, in the center of the capital, Adddis Ababa.
Dr. Mulatu Teshome, President of the Federal Democratic Republic of Ethiopia, was the guest of honor during the inauguration accompanies by the Bank's board of directors, the president and the Bank's senior management.
Teferi Zewdu, Chairperson of the Bank's Board of Directors, said the new building which is located in front of Addis Ababa National Stadium on Ras Mekonnen Street, with a height of 107 meters, will help the bank achieve its vision of becoming one of the top ten banks in Africa by 2025.
Nanchang-based Chinese state-owned Enterprise, China Jiangxi Corporation for International Economic and Technical Cooperation (CJIC), often referred as Jiangxi International, undertook the construction which took six years.
Even though Jiangxi International won the bid to the construction project with 733 million Birr in August 2011, the cost of the construction has increased to 805 million birr over the course of time due to the rise of the prices of building materials.
The Ethiopian firm ETG Designers & Consultants Plc designed and supervised the headquarters project. ETG Designers & Consultants Plc is ne of the leading  architectural  and engineering firms in the construction sector of in the country. Currently, teh company is registered as a Category I Consulting Architects and Engineers by the former Ministry of Urban Development, Housing and Construction of Ethiopia.
Established in June 1997, according to Addis Fortune, Wegagen Bank's paid-up capital has reached 2.2 billion Br invested by over 2,349 shareholders, having 232 branches throughout the country. In 2016, the Bank's earned a gross profit of 798 million Birr which was approximately a 50% growth compared with the preceding fiscal year making the Bank the fifth most profitable bank in the country.
Semonegna.com
——
Other stories:
---