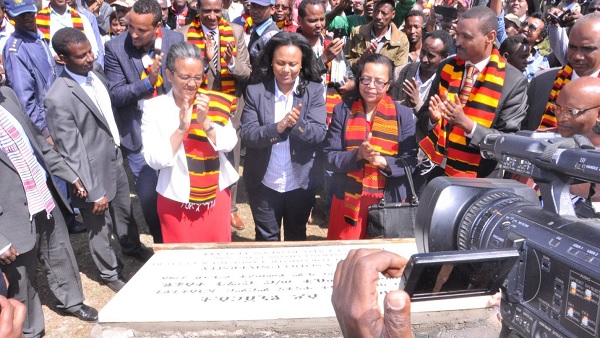 WOLAITA SODO, Ethiopia (WSU)– Wolaita Sodo University (WSU) has laid a foundation in January 2018 for construction of Research Institute for Omotic Languages and Cultures.
Ethiopia's First Lady, Roman Tesfaye, honorable guest of the day, has laid the foundation for inaugural of Research Institute for Omotic Languages and Culture on the previous academic year.
Addressing the symposium, Dr. Senbetie Toma, President of Wolaita Sodo University, expressed that the university has been slot into the diversified fields of researches and community service affairs in its catchment areas. "Preserving and promoting cultural and indigenous values of Omotic people based on scientific research is one of the focus areas of the university, and this remarkable day is the indicator of Wolaita Sodo University's out- smart attempt," he added.
It was reiterated that scholars and stakeholders should play their role in interlacing the institute with other similar institutions to scientifically excavate the historical and cultural resources.
As it is recognized in the Federal Democratic Republic of Ethiopia (FDRE) Constitution, nations nationalities and peoples have the right to market and redo their language and culture to all.
In the symposium, papers were presented and design of the institute by project consultant briefed and comments were forwarded by the participants and invited guests. The participants have expressed their fervor on the initiative and enthusiasm of Wolaita Sodo University in launching such a colossal language and culture research institution.
ALSO: Three Ethiopian Universities to Offer Turkish Language: Yunus Emre Institute
The foundation stone was laid by First Lady Roman Tesfaye, and other invited guests at Lintala, which is 5 km away from the main campus of the university. Currently, the university began to build the institution by making structural adjustment on its design as it was commented during its inception path. The institute believed to be home and center for language and cultures of Omotic people.
Source: WSU
---