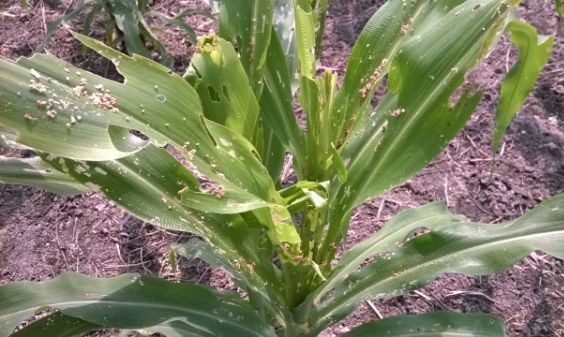 Researchers at Wolita Sodo University developed an effective chemical to kill and eliminate the fall armyworm, which is recently ravaging crops (mainly maize) in many African countries.
By Addis Getachew (Anadolu Agency)
Researchers in Ethiopia have developed a chemical which could kill and eliminate the fall armyworm, a pest known to devastate maize crops in dozens of African countries.
Dawit Dalga of Wolita Sodo University's School of Agriculture, who had devoted years to researching the pest, said the new chemical was tested on farmlands in 14 villages and proved successful.
Fana Broadcasting Corporate, a local media outlet quoted Dawit Dalga as saying the chemical was capable of killing the pest in 25 minutes in a laboratory, versus about 50 minutes in the field.
The voracious armyworm has been reported to be devastating crops in 25 African countries, and could make Africa's food crisis even worse, an African Union Commission official said in July.
The pest made its way into Africa from the Americas and first struck Nigeria, said Josepha Sacho, the African Union's commissioner for rural economy and agriculture.
While currently maize crops are being affected, the pest can graze on 80 crop species, said Godfrey Bahigwa, head of the African Union's Department for Rural Economy and Agriculture.
Source: Anadolu Agency
——
Other stories:
---