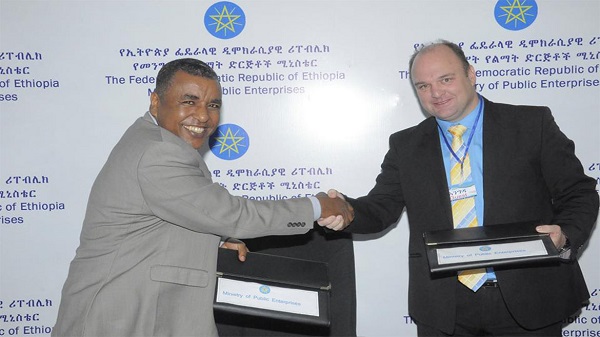 A Mauritius-based company, Ambo International Holding Ltd., has acquired 33 percent of government's share in Ambo Mineral Water SC, bottler of the popular Ambo Mineral Water, at a price of $19.7 million.
The acquisition agreement was signed at the offices of the Ministry of Public Enterprise in the presence of top officials of the ministry and the company. The newly appointed Minister of Public Enterprises, Girma Amente (PhD) and Ambo International Holding Limited representative, Patric Planket signed the deal representing their respective sides.
After the signing ceremony, the minister noted that since the oldest mineral water bottler was partially privatized it has improved its production quality and variety. He also hoped that it would even be jumped to better level once it is fully privatized.
"Therefore, the acquisition will help Ambo to maintain its well established reputation in the market," Girma added.
Representative of the buyer company, on his part, underscored that his company will abide with the agreement in order to realize the company's aspiration to move to better level of production and quality.
The factory was nationalized in 1974 and it was partially privatized in 2008. An Ethiopian businessman, Tewodros Ashenafi, in partnership with UK's SABMiller, bought the factory from the Ethiopian Privatization Agency eight years ago. SABMiller and SouthWest Development, a company established and managed by Tewodros forged a joint venture company, Ambo Mineral Water SC, with the Ethiopian government.
The source of Ambo Mineral Water is a thermo-mineral spring, rich in natural calcium, magnesium, potassium, bicarbonates and carbon dioxide.
The water originates in a volcanic fissure which then peculates through mountainous terrain eventually being tapped at the springs in Ambo Senkele, 130 km from Addis Ababa, capital city of Ethiopia.
Source: Africa Business Communities
——
Other stories:
---