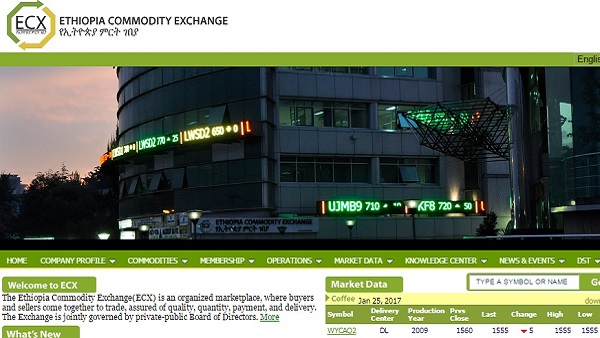 Ethiopia's premier company to push for electronic trading of agricultural produce, The Ethiopia Commodity Exchange (ECX) has said that the success of the initial trading center has now inspired it to commission three more in various regions of the country, with four others also in the pipeline.
According to Ermias Eshetu, the CEO of ECX, the central exchange had been deploying an effective electronic trading platform that had substituted some 89 percent of the open outcry trading method.
Mainstreamed since last fiscal year, the e-trading platform has enabled the ECX to trade 246,752 metric tons of commodities, mainly coffee and white beans. In addition to that, sesame, maize, wheat, mung bean and red bean have contributed to achieving the targets set during the first half of the current fiscal year.  According to Ermias, the volume the exchange traded in the stated period had a value of 10.108 billion birr.
Ermias and his strategic officer Hailemichael Hailu noted that the volume of traded commodities had shown a six percent decline from the same period last fiscal year.
The exchange, however, was able to achieve 96 percent of the targets set for the volumes traded. On the other end, the value of trade has shown an increase of $840,000 with a 94 percent of achievement set for the half year target.
Ermias recalled that last year had set a record high performance both in volume and value. From 632,000 metric tons of traded commodities, the ECX was able to transact some $1 billion. This year due to the late harvest season, commodities joined the exchange late and more fair outcomes were expected at the end of the fiscal year, Ermias claims.
Launching an e-trading center at the Addis Ababa platform that still is in the process of switching from the open outcry trading method, the new centers the ECX is set to introduce to the commodity exchange business are located in Hawassa, Nekempt and Humera towns.
Read more about "Ethiopia Commodity Exchange deepens…" on Africa Business Communities
——
See also:
---