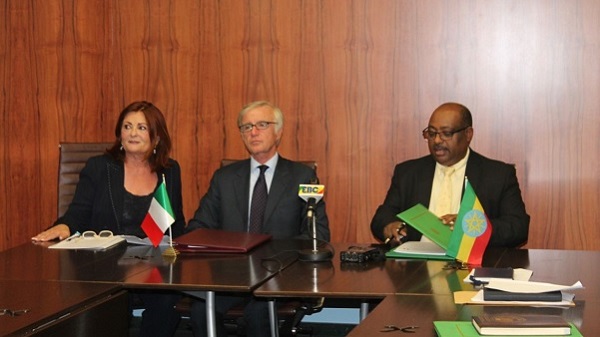 ADDIS ABABA–Italy and the Federal Democratic Republic of Ethiopia (FDRE) signed today the Ethio-Italian Cooperation Framework for the period 2017-2019. The agreement foresees projects and programs all across Ethiopia in a three year period, with a budget of 125 Million of Euros, of which 40mln Euros in grants and 85mln Euros in loans.
The Ethio-Italian Cooperation Framework 2017-2019 aims at supporting a multisectoral approach, intended to contribute to the integrated, inclusive and sustainable development. To this end it will scale up successful ongoing and past initiatives taking into account at the same time new emerging priorities, such as the negative impact of climate change and migration.
It is expected that the Framework will
foster agricultural modernization and agroindustrial development;
improve basic services, especially in the field of water and sanitation;
raise the quality of the health assistance in the country;
promote gender equality;
strengthen good governance and
mitigate the effects of irregular migration.
Intervening at the signing ceremony, Giuseppe Mistretta, Ambassador of Italy to Ethiopia said that "The Ethio-Italian Cooperation Framework 2017-2019 has been extensively negotiated with the Ethiopian authorities and represents a 25% increase of allocation comparing to the previous Country Framework. Italy will continue to support the Ethiopian Government, in the framework of its Growth and Transformation Plan II (GTP-II) goals, through interventions in different priority sectors which have been jointly identified."
Ms. Ginevra Letizia, Head of the Addis Ababa Office of the Italian Agency for Development Cooperation (AICS) underlined that "Within the new Ethio-Italian Cooperation Framework 2017-2019, the Italian Agency for Development Cooperation will also promote synergies and partnerships with first quality Italian quality and expertise, also known as "Italian Excellence." The Ethio-Italian Cooperation Framework 2017-2019 will also establish a close cooperation with the decentralized Ethiopian entities and with local communities in remote areas in various fields, such as Water, Sanitation and Hygiene (WASH), health, gender equality and food security".
Source: Italian Embassy in Addis Ababa
——
Other stories:
---