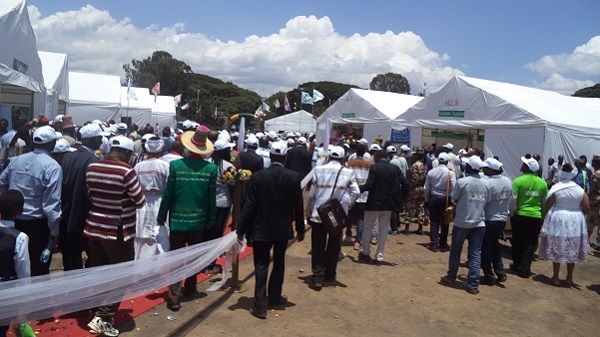 ADDIS ABABA (Xinhua)–Ethiopia has planned to promote domestic tourism as part of the World Tourism Day celebration, which will be celebrated September 27 worldwide.
The World Tourism Day celebration in Ethiopia is a week-long program, from September 21 to 27, in which the Ethiopian government envisaged to promote domestic tourism among Ethiopians with due emphasis given to the east African country's historical and natural attraction sites.
According to the Ethiopian Culture and Tourism Ministry (MOCT), over 3.32 billion U.S. dollars revenue was generated from over 886,800 tourists that have visited the east African country during the just concluded 2016-2017 Ethiopian fiscal year.
However, the Ethiopian government frequently expressed its concern that even though the tourist influx to the east African country is mounting, the number of Ethiopian visitors is stagnant over the years.
Ethiopia has eight cultural sites registered by the United Nations Educational, Scientific and Cultural Organizational Organization (UNESCO), which includes the obelisks of Aksum, Fasil Ghebbi or the castle of Gondar, the fortified historic town Harar Jugol, Konso cultural landscape, the Lower Valley of the Awash, Lower Valley of the Omo, Rock-Hewn Churches of Lalibela, and Tiya.
The east African country has also one natural endowment registered by UNESCO, the mountainous Simien National Park in the northern part of Ethiopia.
Ethiopia's capital Addis Ababa, known for hosting various international and regional organizations including the African Union (AU) headquarters and the United Nations Economic Commission for Africa (UN-ECA), is also another growing tourist attraction places in the country.
The Ethiopian Culture and Tourism Ministry has stressed that the number of Ethiopian visitors would increase through awareness creation activities concerning the country's historical and natural attractions.
According to Gebretsadik Hagos, head of Addis Ababa City Administration Culture and Tourism Office, the planned awareness creation endeavor will embrace over 500,000 Addis Ababa residents.
● SEMONEGNA ON SOCIAL MEDIA: Facebook| Twitter| Instagram| Pinterest
Visits to tourist attraction sites, mass city cleaning, dialogues, and city greening activities are among of the planned activities.
Ethiopia last year officially launched its new brand, "Ethiopia, Land of Origins," which depicts the country's archaeological sites and findings including the most famous Lucy, a 3.2 million-year-old human ancestor of the hominid era.
The east African country has also planned to honor the recently deceased Habteselassie Tafesse, the man known as "the father of Ethiopia's tourism", as part of the week-long celebration.
Habteselassie, known to have coined the phrase, "13 Months of Sunshine," the country's popular tourism slogan, had contributed hugely to the establishment and development of the tourism industry in the East African country.
Hirut Woldemariam, Ethiopian Minister of Culture and Tourism, has hailed Habteselassie's accomplishment in promoting Ethiopia and the country's tourist destinations and products, both at home and globally.
This year's celebration of the World Tourism Day focuses on how sustainable tourism can contribute to the global development.
Source: Xinhua
——
Other stories:
---