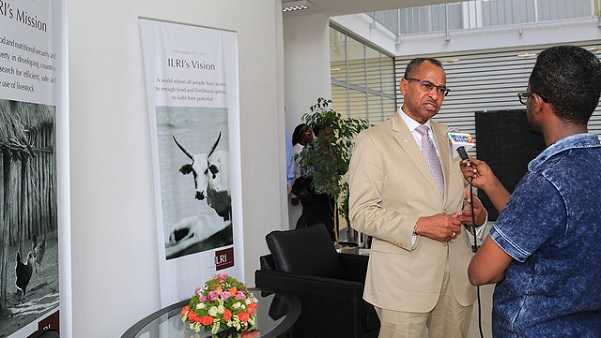 ADDIS ABABA, Ethiopia–The International Livestock Research Institute (ILRI) officially opened state-of-the-art facilities for genebank and bioscience research in Addis Ababa, Ethiopia. The facilities will help protect a crucial component of the planet's biodiversity—the diverse grasses and legumes that feed the world's food animals. Research conducted here on livestock feed materials improves the sustainability and productivity of the livestock sector in many low-income countries across the world.
Addressing an audience of government, embassy, donor and civil society officials, ILRI director general, Jimmy Smith, highlighted the potential importance of the role of the new facilities in the future collection, conservation, multiplication, distribution and quality control of forage seeds, crucial to promoting the higher productivity of livestock.
'Lack of adequate year-round feeding of livestock is widely accepted as one of the key constraints in livestock production systems in the tropics. ILRI has recognized this by establishing the Feed and Forage Development Program, led from the ILRI Ethiopia campus', Smith added.
The ILRI Forage Genebank is one of 11 genebanks within CGIAR, a global partnership of 15 international research centers working with national and other partners for a food-secure future. The CGIAR genebanks are located in countries that are 'centres of origin' of key food crops so as to make optimal use of the natural diversity of indigenous plants. Researchers use the tens of thousands of diverse crop materials stored and conserved in these genebanks to discover and develop high-yielding crop varieties well adapted to diverse tropical agro-ecologies. All the germplasm stored in the CGIAR genebanks, including ILRI's, is held in trust under an International Treaty on Plant Genetic Resources for Food and Agriculture. This germplasm, safely stored for use by researchers today and by those in future generations, is made freely available to all.
Feed constraints were also high on the agenda of the government of Ethiopia. Representing the minister of livestock and fishery, HE Fekadu Beyene, his state minister for livestock, Gebregziabher Gebreyohannes, stressed the crucial need to increase productivity in the sector. If the targets set by the government for increasing meat, milk and egg production are to be met, a secure supply of high-quality year-round feed is a prerequisite.
Read the complete story at The International Livestock Research Institute
——
See also:
---