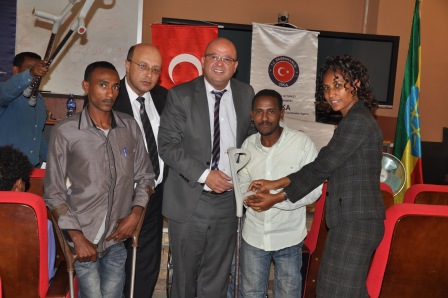 Turkish Cooperation and Coordination Agency (TİKA) delegates visited Mekelle University (MU), Adi-Haki Campus, and donated items to students with special needs who are studying at the University.
The handover ceremony was held in the presence of TİKA representatives, Mekelle University's Industry and Community Linkage (UICL) Director and Advisor, MU Students Services Director, Coordinator of HIV/SWD and other invited guests.
An opening speech has been made by Mr. Macit Koc, UICL Advisor. In his opening remarks, Mr. Macit indicated that he approached TİKA with a goal of requesting some aid materials for MU's students with special needs. TİKA has responded positively and provided the needed materials during the summer. Both institutions agreed to hold the handover ceremony at the beginning of the semester. Mr. Macit concluded his remarks by saying that in order to make the daily life of the disable students easier and support their education, MU's UICL Office will work hard together with other partners demonstrate that-We Really Care!
READ: University of Hohenheim (Stuttgart, Germany) Delegates Visited Hawassa University
During the handover ceremony, Dr. Alemtsehay Tsegay, UICL Director, has expressed her gratefulness that Mr. Fatih Celik visited Mekelle University and delivered the items to the disable students. In her speech, she stated that the university involves in various community service engagements furthermore to the teaching and learning and research engagements as a foremost duties of the university. Thus, Dr. Alemtsehay expressed her gratitude to the organization for donating the material as part of the community service that the university highly involves in. Dr. Alemtsehay added that the relation between MU and Turkish government will continue in various ways. Lastly, the UCIL Director acknowledged Mr. Macit, for his professional initiation and determination to make this donation event happened to the students of Mekelle University.
Read more on Mekelle University
——
See also:
---