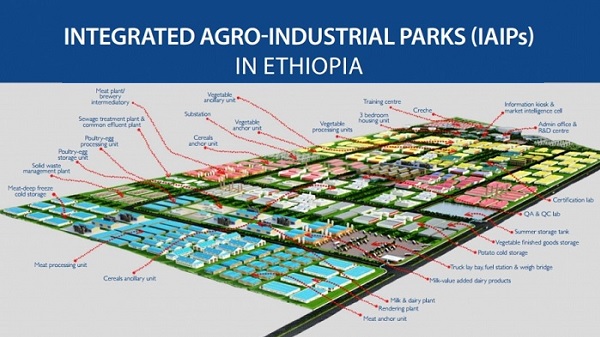 Hawassa, Ethiopia (ENA)―Development of an Integrated Agro-Industrial Park in the regional state of SNNP will be launched soon with an outlay of 2.6 billion Birr, the Regional Industrial Parks Development Corporation announced.
Chief Executive Officer of the Corporation, Biru Wolde told ENA that the park will be constructed in the Sidama Zone of the regional state on 214 hectares of land.
The park will be the third of the four integrated agro industrial park, in which the country has set to develop in the current five-year growth and transformation plan period.
It was recalled that construction has launched in the two of the integrated agro-industrial parks in Amhara and Tigray regional states.
The agro industrial park is expected to process livestock and horticulture products, coffee as well as honey, he said.
Six rural transformation centers (RTC) will be constructed within 100 km radius of the park, which contains warehouses, sorting and grading extension services, pre-processing activities and microfinance institutions.
The construction of one of the six RTCs will be conducted this year, the CEO said.
The construction of the park which is expected to be concluded in three years will create jobs for more than 400,000 individuals, he said.
Source: Ethiopian Investment Commission
——
Other stories:
---