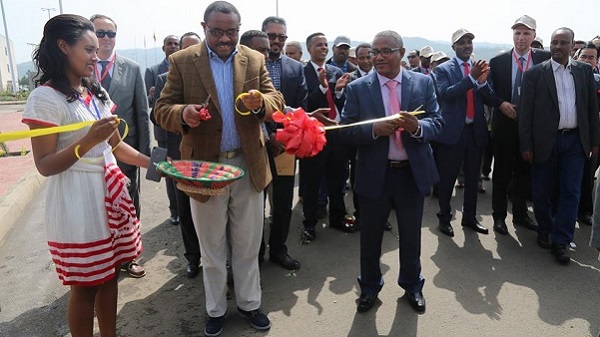 Ethiopia has inaugurated Kombolcha Industrial Park and Mekelle Industrial Park in colorful ceremonies over the weekend, on July 8 and July 9, 2017, in Amhara and Tigray Regional States, respectively .
During both ceremonies, Ethiopian Prime Minister Hailemariam Desalegn said the construction of industrial parks play pivotal role in the country's industrial transformation and economic development.
The Prime Minister commended China Civil Engineering Construction Corporation (CCECC), which constructed each of the industrial parks in less than 9 months period, for its contribution in the construction of industrial parks.
He also said the government is working to create conducive environment to attract investors.
During the inauguration of the Kombolcha Industrial Park, the Prime Minister said, "there should be peace and stability in the country in general and around the industrial parks in particular."
Dr. Arkebe Oqubay, the Board Chairman of the Industrial Parks Development Corporation (IPDC) and Special Advisor to Prime Minister, said the very next steps the corporation will be taking are recruiting local and international investors to come to the industrial parks, creating conducive environment for the investors to quickly roll in and start create job opportunities for Ethiopians.
While the Kombolcha Industrial Park has nine factory-sheds, the Mekelle Industrial Park has 15 factory-sheds. The two industrial parks have a combined construction cost of 250 million dollars. The second-round construction of both industrial parks will be commenced by the same CCECC.
Senior government officials and invited guests attended both inauguration events event.
Semonegna.com
——
Other stories:
---