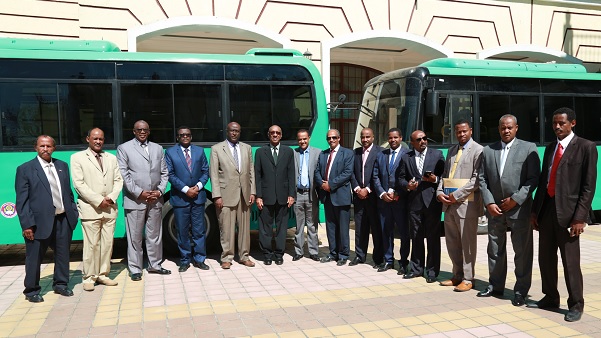 The Ambassador of Republic of the Sudan to Ethiopia, Jamal Elshaikh Ahmed, handed out two buses to the Addis Ababa University (AAU) at a ceremony held in the premises of the Embassy of the Sudan on December 27, 2016.
AAU President, Prof. Admasu Tsegaye, received the keys from the ambassador.
The Sudanese President Omar Hassan Al-Bashir pledged to donate the buses last July when he received the African Dignity Award for being a symbol of resistance, strong leadership and commitment for African institutions during the African Dignity Forum held at Nelson Mandela Hall of the AAU.
'It is a symbolic gift for our cooperation which shows the long standing relations of the two countries,' said Prof. Admasu speaking on the occasion. Prof. Admasu also noted that the buses will help solve the transportation problem that students of the university face when they go out to industries and business firms for practice.
Prof. Admasu also expressed his commitment to further enhance co-operation with Khartoum and Sudan Universities.
Ambassador of Republic of the Sudan to Ethiopia, Gamal Elshaikh Ahmed, for his part stated that Ethiopia and the Sudan have historic relations. He also vowed to work on cultural exchange between students of the AAU and Khartoum University.
The 24-seater buses cost fifty thousand USD, each, before tax.
Source: AAU
——
Other stories:
---