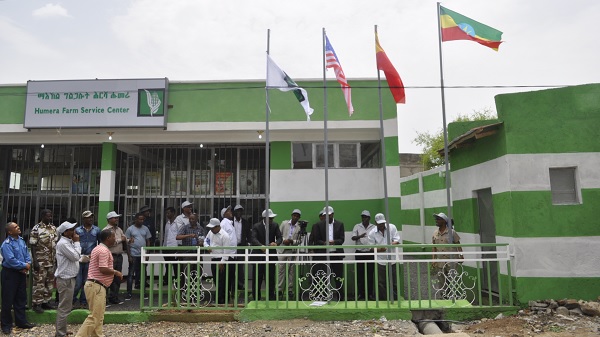 (ATA)–The Commercial Farm Services project of the Agricultural Transformation Agency (ATA) has recently inaugurated two Farm Service Centers (FSCs) in Humera and Axum, Tigray Regional State.
The project is funded by USAID's Feed the Future Ethiopia program, and is implemented by the ATA in collaboration with the Ministry of Agriculture and Natural Resources (MoANR) and regional bureaus, with technical support from Cultivating New Frontiers in Agriculture (CNFA).
The two centers are the sixth and seventh of 20 centers that the project aims to build to help improve input supply, distribution, and utilization to help farmers increase production and productivity. The centers are established via a public-private partnership to expand Ethiopian smallholder farmers' access to agricultural inputs. FSCs are facilitate one-stop-shopping for farmers with products at affordable prices. The project also seeks to demonstrate the viability of the FSC model as a platform for large-scale public-private partnerships to expand Ethiopian smallholders' access to inputs.
"Although the livelihood of the majority of our population depends on agriculture, the amount of agricultural inputs that we are utilizing is low compared with other countries. One of the reasons for this is that inputs are not easily accessible," said Mr. Gizachew Sisay, Commercial Farm Services Project Team Leader. "Even when inputs are accessible, quality is usually poor or prices are hardly affordable for smallholders. These multifaceted bottlenecks hinder farmers from using farm inputs and maximizing their production and productivity."
Located in close proximity to Ethiopia's borders with Eritrea and Sudan, the Humera FSC is found in the sesame cluster of Kafta Humera woreda. It is expected to play a key role in combating farmers' use of farm inputs purchased from unregulated traders, which is frequently practiced in the area. The center aims to address the input needs of close to 5,000 smallholders, as well as 220 commercial farmers engaged primarily in sesame production. The distinguishing feature of this center is farm mechanization, whereby it provides sesame row planting, motorized herbicide spraying, sorghum threshing, and land plowing using tractors.
Read the complete story at ATA
——
See also:
---