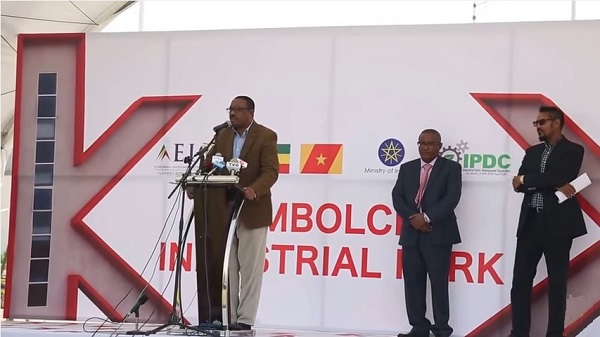 ADDIS ABABA (Xinhua)– Kombolcha Industrial Park (KIP), in Ethiopia's northern Amhara regional state will start production in February 2018, an Ethiopian official said on Wednesday (Dec. 6).
The industrial park built at a cost of 90 million U.S. dollars by China Civil Engineering Construction Corporation (CCECC) on 75 hectares of land was inaugurated in July 2017.
Azmeraw Dejene, project coordinator at KIP, told journalists the installation of machinery and training of employees was needed before it became operational. Once operational, KIP is expected to employ 20,000 employees attracting textile and garment firms from the likes of China, U.S. and South Korea.
Located 376 km north of Ethiopia's capital city, Addis Ababa, in Amhara Regional State the Kombolcha Industrial Park (KIP) is part of Ethiopia's efforts to have a manufacturing development belt along rail lines connecting it to neighboring Djibouti port.
Ethiopia is currently preparing to start commercial operations on the Chinese financed and built Ethio-Djibouti electrified rail line.
RELATED: Five Industrial Parks Created 40,000 Job Opportunities – Ethiopian Investment Commission
Speaking to Xinhua, Ahmed Shide, Minister of Ethiopia's Ministry of Transport (MoTR), said the industrial parks along the Ethio-Djibouti rail line will significantly enhance economic transformation by helping ease transportation of goods.
The electrified rail line is expected to cut transportation time needed for goods to reach Djibouti port from the Ethiopian hinterland from at least two days to 10 hours.
Source:
——
Other stories:
---