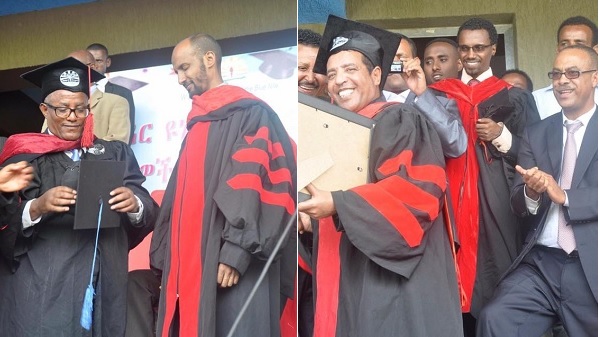 Bahir Dar University conferred honorary doctorate degrees to humanitarian Mr. Biniam Belete (of Macedonians Humanitarian Association) and lyricist/melodist Artist Abebe Melese.  
BAHIR DAR (BDU)– Bahir Dar University has graduated 9,928 students on June 24, 2019 on a ceremony held at the University's Sports Academy Stadium in Bahir Dar, Ethiopia.
Dr. Bayile Damte, President of the University, while addressing an opening remark, has made a comprehensive speech about the University's academic and research activities performed in the academic year.
Some of the guest honors during the momentous commencement ceremony were, H.E Mr. Gedu Andargachew, President of Amhara National Regional State, Mr. Tesfaye Getachew, Head of Amhara National Regional State Trade, Industry and Market Development Bureau and Chairman of Bahir Dar University board, Mr. Ayenew Belay, Mayor of Bahir Dar City, Mr. Nigussu Tilahun, Director of Amhara Region Communication Affairs Office and other officials.
In addition to the graduation of the students who have been studying at the University in different fields, the University conferred honorary doctorate degrees to Mr. Biniam Belete, Founder of Macedonians Humanitarian Association and to the renowned Ethiopian music lyric writer and melody creator, Artist Abebe Melese. Mr. Biniam received an honorary doctorate degree in law whereas Artist Abebe received and honorary doctorate degree in art.
Source: Bahir Dar University
——
Other stories:
---